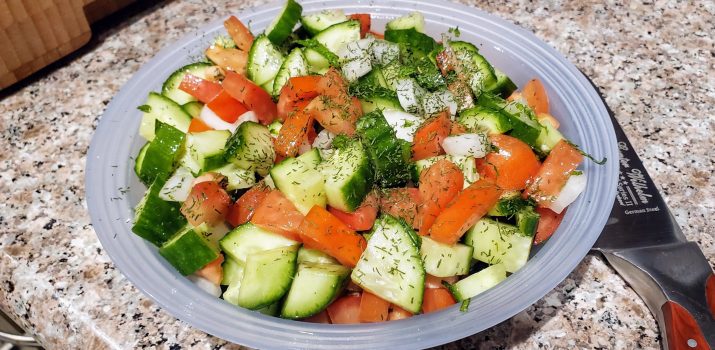 Sometimes you don't have time to do a fancy recipe, or maybe even just the willpower. But a bear's gotta eat. So, something simple will have to do.
It's super simple, and super healthy, and can be made with basic ingredients.
It's embarrassing calling this a "recipe", but it seems the best way to describe it to you.
Simple Cucumber & Tomato Salad
A simple salad, just like the title says!
Last updated August 7, 2019.
Ingredients
cucumbers

chopped

tomatoes

chopped

onion

diced, almost any variety will do

fresh dill

finely chopped, optional

fresh mint

finely chopped, optional

lemon or lime juice

fresh is best!

pinch

garlic or sea salt
Instructions
Chop up some cucumber. I tend to like the Persian cucumbers for this, but I will be making it in the next few days with some huge hothouse cucumbers I got on sale. I like big servings, but have found that about 2 larger Persian cucumbers, or ⅓ to ½ of a large hothouse cucumber is about a serving.

Chop up some tomato. Usually I have some Roma tomatoes, as they're often cheap, but anything will do. I use 2 small tomatoes or one large, so I have about 80% as much tomato as cucumber.

Dice the onions. Works great with green onions from the whites to the green, or yellow or white onions, too.

Finely chopped the mint, or dill or whatever green, fresh herbs you might have around, and sprinkle on top. Sometimes if I don't have fresh dill, just dried will work great as well!

Add a pinch of garlic or sea salt.

Put a strong splash of lemon or lime juice all over the top.

Mix it all up, and store in fridge until ready to eat!
Notes
This is one of those salads that seems to improve if you let it all "marinate" together for a bit.  Making it in the morning for lunch is great!
That's it! Super simple, and delicious, and incredible on a hot summer day!