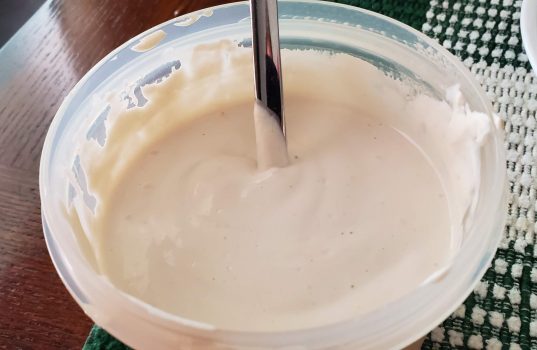 Seems I had a another hankering for some good ole country potatoes this morning, which works out, since I just bought a big bag of potatoes. (And, fun fact, as I look back, this is almost the exact sentence I used to introduce the recipe for my No-Oil Air Fryer Country Potatoes, originally, in September!) But, I wanted this to be great, so I couldn't just make the potatoes; I had to make it, um, better!
I'd mentioned in my No-Oil Air Fryer Country Potatoes recipe that most plant-based sour creams are about the same. And they are, with a few variations. The Seven Secrets Cookbook (which seems to be cheaper right now than I've noticed it before…hint, hint) has a good one that has silken tofu and a bit of cashews in it. But, that wasn't my favorite, and seems to get quite hard after a few days in the fridge.
So, with help from Angela Liddon at Oh She Glows (which, the childish side of me says, "Maybe she ought to get that checked…"), I present her recipe, in typical form, slightly modified by me to be better and more amazing (of course, in my opinion!) Or something like that.
Plant-based Sour Cream
Cashew-based Sour Cream substitute, oil-free, gluten-free, sugar-free
Last updated Oct. 6, 2019.
Ingredients
1 ½

cups

raw cashews, soaked

¾

cup

water

err on the side of less rather than more*

3

Tbsp

fresh lemon juice

2

tsp

white vinegar

½

tsp

salt
Instructions
Cover cashews with water in a bowl and soak overnight in the refrigerator. Alternatively, you can do the "quick-soak method", where you pour boiling water over the cashews and soak them for 1 hour. Drain and rinse the cashews when ready to use.**

Put all ingredients in a high-speed blender. Blend on high until super smooth. For me, this was 1-2 minutes. At the end, you might slowly slow down your blender until stopped to get out extra air bubbles. Depending on your blender, you may also have to stop a few times and scrape the mixture down a bit. Adding slightly more water will help it, if it doesn't seem to be blending.

Scrape out of blender and into an airtight container and chill. The cream thickens as it chills, and will last 1-2 weeks.

Angela says: You can also freeze it for up to 1 month. I like to freeze it in silicone mini muffin cups. Once solid, transfer the cups into a freezer-safe zip bag for easy grab and go portions.
Notes
*Start with barely 3/4 cup water and see how it goes.  Don't use a "generous" 3/4 cup.  If you need more liquid to make it properly blend, add it, just a little at a time, until you get a good blend going.  Remember, this cream will thicken in the refrigerator, and it's best to chill before serving, as the blender can heat this up quickly!
**After soaking cashews, they are a weird gray color.  Don't worry.  The cream gets pretty white upon blending!
Angela's original recipe calls for less lemon juice, and the use of apple cider vinegar. I find that the extra lemon juice makes the cream more "soury" and that the apple cider vinegar adds a strange sweetness that seems to get even stronger over the life of the cream. I don't really want my sour cream to be sweet, so I've made these modifications, and find it pretty tasty, indeed.
And those country potatoes I wanted for breakfast? They were delicious! I added in diced bell peppers and yellow onions before I was done cooking, and then topped them with last week's Plant-based Cheddar Cheese (shredded), and some salsa!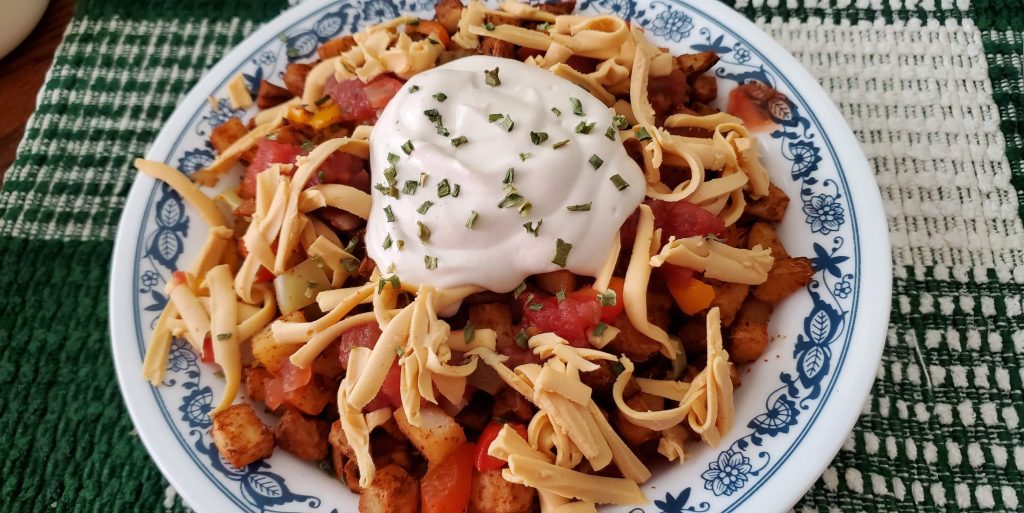 May your days be sour, and creamy! Or at least your potatoes!