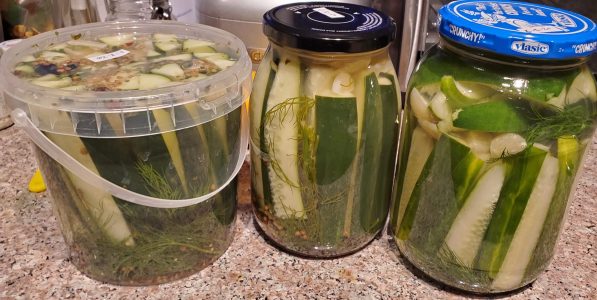 So, I was in a pickle… I was hungry for a snack, and wanted something crispy, crunchy, salty, low calorie, and satisfying. And cucumbers are on sale! The thing about pickles, though, they're not an instant gratification kind of treat! But, let's not delay! Time to make some pickles!
So far, I've had moderate success with pickle making, trying basics like reusing store-bought pickle brine after eating all the pickles, or just adding a bit more salt or liquid. And, I've used a recipe before to make refrigerator pickles, because I love refrigerator pickles!
So, here's what I'm trying this evening. I made my own brine recipe after going through quite a few brines and trying to figure out how I wanted my pickles to taste! I go for a sour, dill pickle, and I don't like a ton of vinegar taste, and definitely don't like them sweet!
First, I got my brine going on the stove, with 4 parts water, 1 part vinegar, and 1 part lemon juice! Then I lined my pickle containers with generous amounts of rinsed, fresh dill! I tend to avoid tons of stems, so just choose the upper half of the stalks. I also added some pickling spices that I picked up in bulk. You can also add slice garlic here. I like to slice lengthwise to get lots of surface contact and still have recognizable pieces.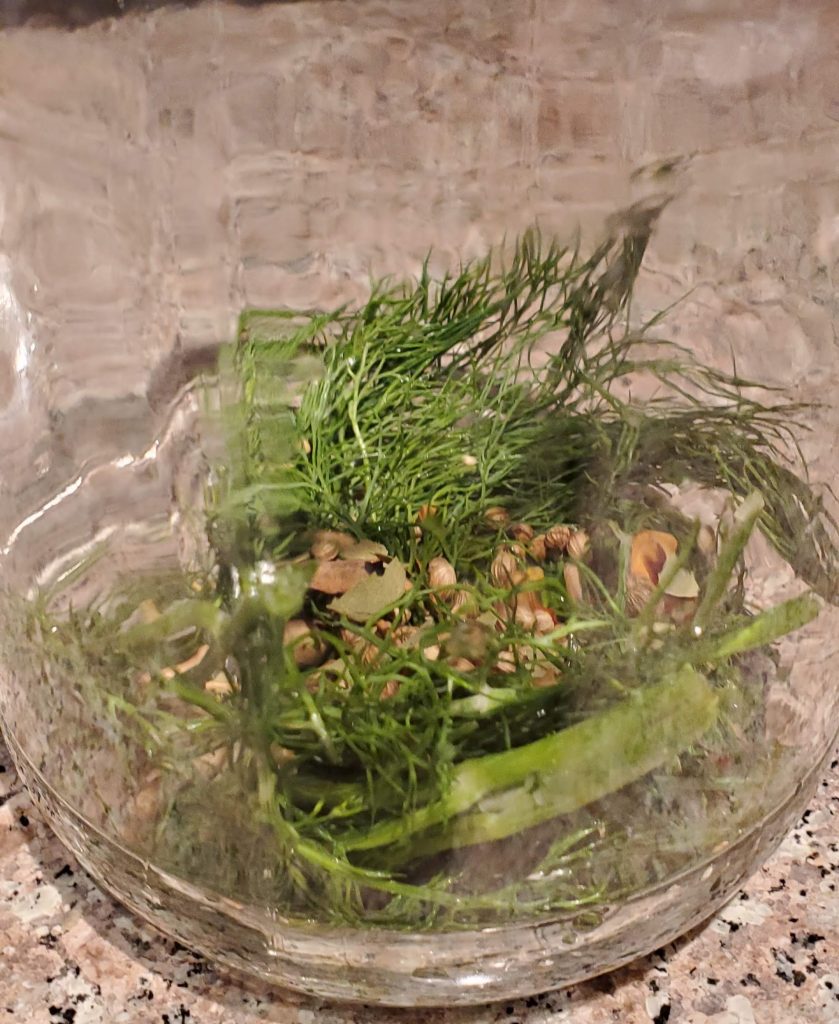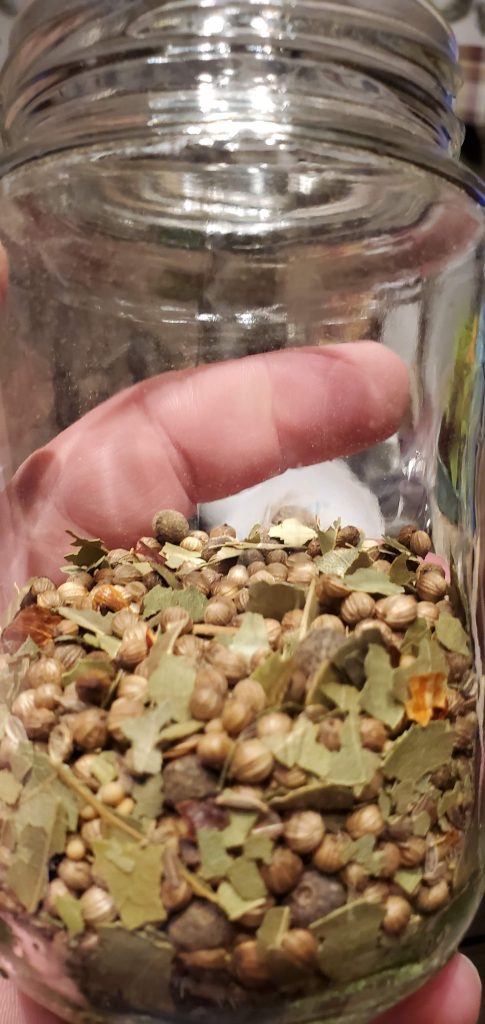 Next, since tonight I used "hot house" cucumbers, (the big waxy ones you see at the market), I first rinsed and scrubbed the cucumbers in hot, hot water to try to remove some of the wax and ensure sanitation! Pickling cucumbers work great too, of course (but tend to be more expensive), and I'll get Persian cucumbers when they're in season, as well. I don't mind the hot house cucumbers at all because that waxy skin creates a nice crunch and sturdiness!
I slice the cucumbers in half, then slice length-wise in half, and finally cut each half in quarters to make spears. I've also tried slicing, or even tried to do some crinkle cut slicing, but apparently don't have the right tool for that, and spears suit me just fine.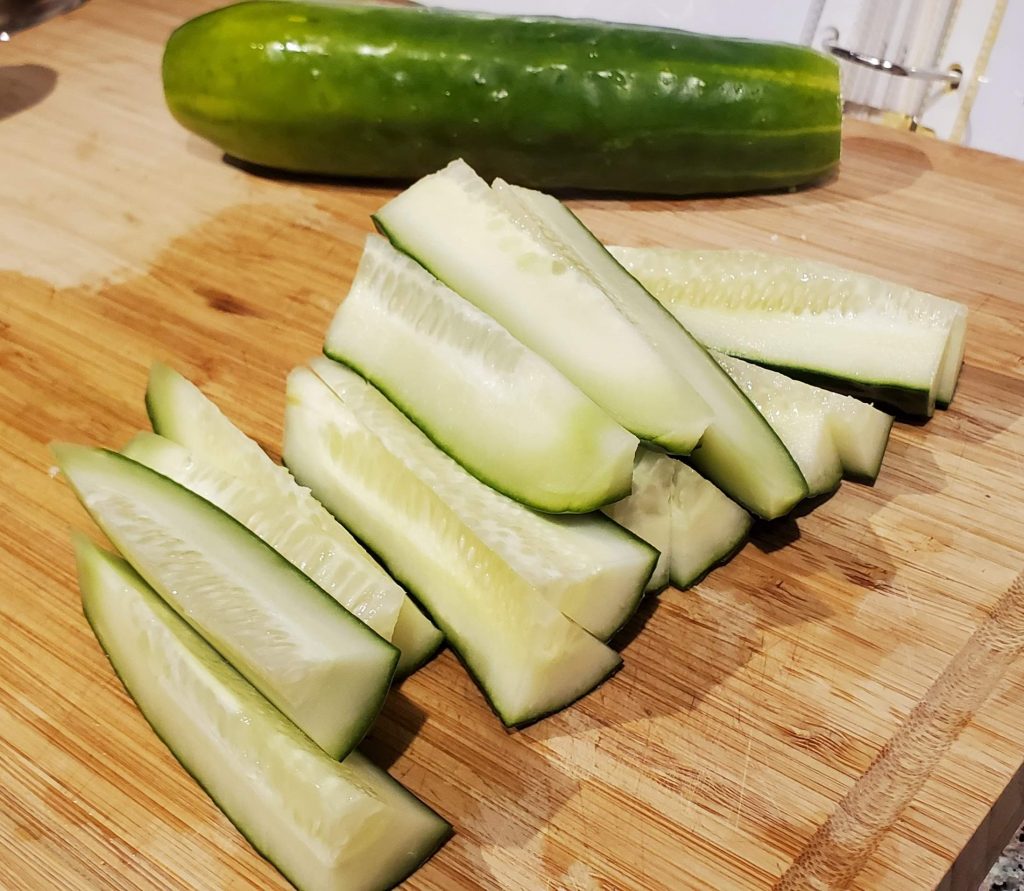 Now, I stuffed the spears into my jars and containers as tightly as I could, while intentionally not "matching" sides as much as possible, so there is room for the brine to flow!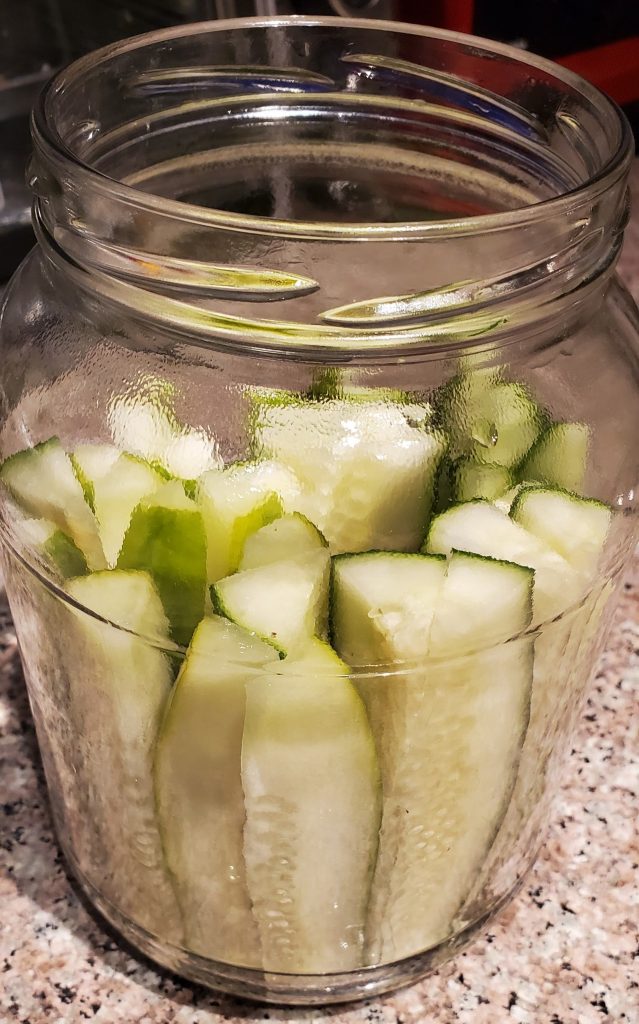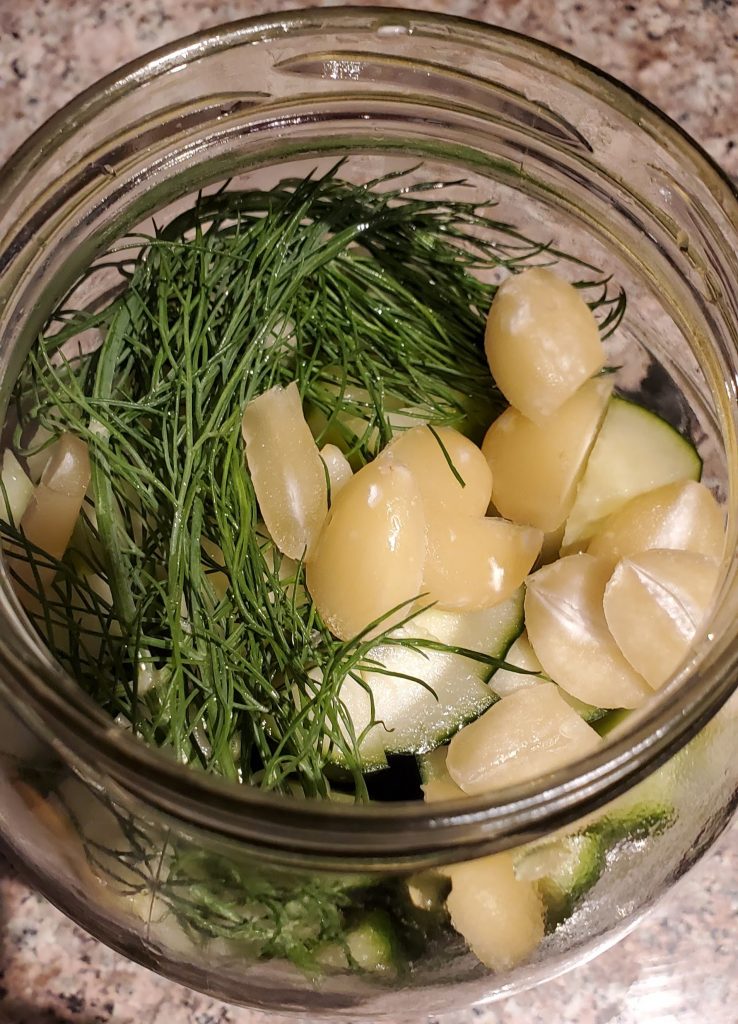 Finally, I pour the heated brine over everything, covering all cucumbers and ingredients. Pop the lid on, shakes a few times to mix up all the ingredients, and pop them in the refrigerator!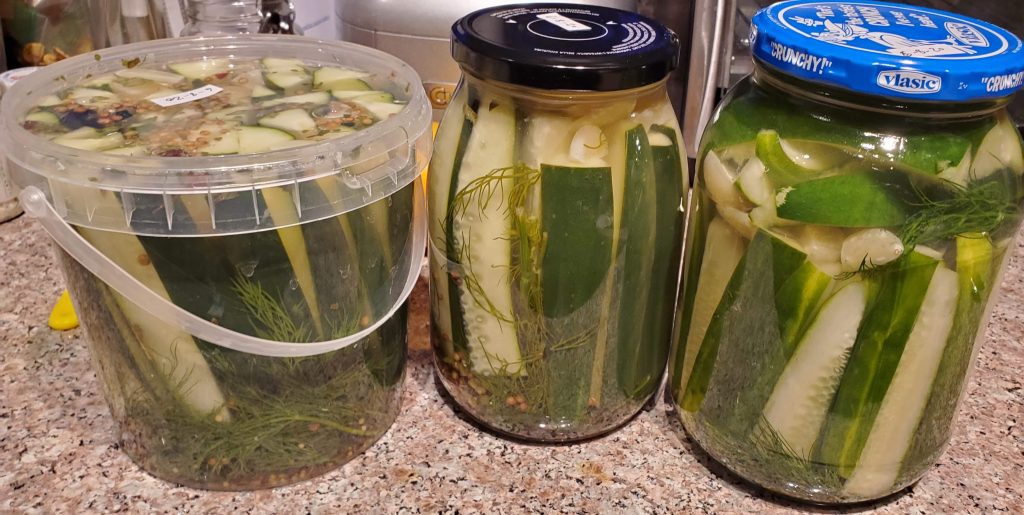 Plant-based Bear's In-Progress Pickle Recipe
Tasty, sour, dill refrigerator pickles!
Last updated June 8, 2020
Ingredients
4

cups

water

1

cup

lemon juice (bottled)

1

cup

vinegar

2

tbsp

pickling salt

fresh garlic cloves

fresh dill

pickling mix, or pickling spices

5

large cucumbers, OR

6-8

pickling cucumbers or persian cucumbers
Instructions
Combine water, lemon juice, vinegar, and salt in a saucepan and bring to a boil, stirring enough to dissolve salt.

Line bottom of jars or containers with generous amounts of dill, and desired amounts of slice garlic cloves

Add pickling mix or spices. I use around a teaspoon per "average" pickle jar, smaller than a large Mason jar.

Alternatively, add desired amount of mustard seed, black peppercorns, crumbled bay leaves, and other desired spices to the bottom of the jar. People add allspice berries, coriander seeds, pepper flakes, ground ginger, broken cinnamon sticks, cloves and dill seed!

Add sliced garlic cloves to bottom of jar, or leave for on top. It's up to you!

Slice pickles as desired. and pack into containers tightly but not allowing all sides to touch. Top with more garlic or dill, as desired.

Pour hot or boiling brine over pickles, making sure to cover all pickles and ingredients.

Top jars or containers, refrigerate.

Recommended to give pickle jars a few mixing shakes, around once per day.

In about a week, snack and enjoy! Pickles last at least a month, but should not "sizzle" when opened.
In about a week I'll report back on how these turned out, and will modify my recipe as I find the perfect pickle!
What's your favorite kind of pickle? Or your favorite recipe? Let me know in the comments!