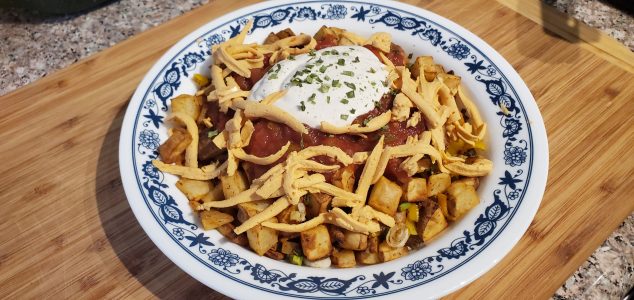 This morning I had a hankering for some good old-fashioned country potatoes. Usually, these would be fried up in a skillet, and topped with cheese and sour cream. Yeah, none of that last sentence is going to work anymore!
So, with my air fryer, I was able to make my own country potatoes, and they turned out delicious.
This "recipe" is more of a how-to method than a good measuring guide.
No-Oil Air Fryer Country Potatoes
Like any country potatoes, but plant-based, and using no oil!
Last updated Sept. 25, 2019.
Materials
whole raw potatoes

2 medium-large potatoes is an ample serving per person

cold water

Enough to cover potatoes in a bowl

Chicken-like seasoning

paprika

Use more than you think necessary

garlic powder

onion powder

chili powder

Just a touch.

ground pepper

other seasonings

thyme, rosemary, oregano or others, as to suit

bell pepper

diced

green onions

diced

other chop-able veggies

zucchini, squash, tomatoes, onions

salsa or ketchup

plant-based sour cream

optional

plant-based shredded cheese

optional
Instructions
Dice to desired size. I tend to like mine more like those you'd buy frozen, so reasonably small.

Soak potatoes in water for the duration of your dicing session. You may choose to drain off and rinse the potatoes a couple times, until water doesn't get cloudy with stirring.

Drain water from diced raw potatoes. Drain as much possible, but no need to go through extra drying steps.

To the bowl of potatoes, add some chicken-like seasoning. Remember this is usually pretty salty, so use accordingly.

Add paprika for color and flavor. Smoked paprika could work here, too. This helps give a beautiful fried color, so be generous!

Add onion and garlic powder to bowl, for flavor. Add other herbs and spices, as desired.

Stir up ingredients of the bowl, coating each potato piece with some of each ingredient. If there doesn't seem to be enough coating, add some more!

Depending on the size of your air fryer, spread out in the bottom of air fryer. About 1-3 inches thick seemed to work for me, but make sure plenty of air can get around all of the potatoes, and don't try to cook too many at once.

Cook in air fryer, for about 13-16 minutes at 400°F. Depending on how heavily you load your air fryer, you may wish to give a good stir, or shake the potatoes around about every 5 minutes.

While cooking your potatoes, slice, dice, and mince the bell peppers, green onions, and other veggies, trying to stick with veggies that need about the same cooking time.

Remove pan from air fryer and add veggies, and stir around in with potatoes.

Air fry for another 3+ minutes to desired crispness.

Serve with plant-based sour cream, salsa or ketchup, and plant-based shredded cheese, or even sprinkle some fresh diced green onions on tap!
I found that if I don't soak my potatoes in water first, I end up with a mess that just doesn't have that restaurant quality. But the length of the soak doesn't seem to matter as much as just doing it, and clearing the cloudy water.
For the seasonings, use more than you think necessary or needed, except for the chicken-like seasoning. I use McKay's Chicken Seasoning if I have any (I find that it is expensive online), but there are alternatives, and I've found some compelling looking products at my local Asian supermarkets (some even without oil.)
Seems that most plant-based sour cream recipes are about the same, but I'll rehash the one I'm using at some other time. I've now taken the time to post my Plant-based Sour Cream recipe!
And for shredded cheese, I've been using my Plant-based Sharp Cheddar.
Enjoy! I know I thoroughly do, every time I make this recipe!