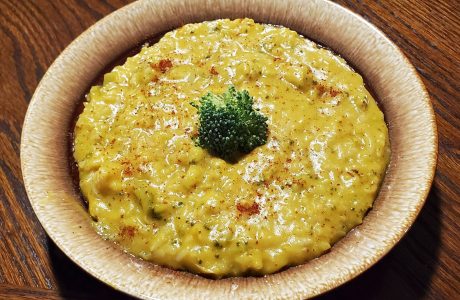 The winter days are waning, and it's heating up, but there's still just enough time for a little more comfort food – soup!
After last week's Broccoli Chocolate Cake, I still had some broccoli left, and, I remembered that, when I was growing up, my mom used to make a delicious broccoli rice soup! Mom's soup was undoubtedly made with dairy products, so I had to think outside the (dairy) barn!
The result was something I think is truly special, and uses some methods and skills I've been honing and learning about from other recipes. And, I'm pleased to say that this recipe is 100% original to the Plant-based Bear, and I'm pretty proud of it!
This soup is chock full of goodness, from whole grain rice, to carrots, onions, and, of course, broccoli!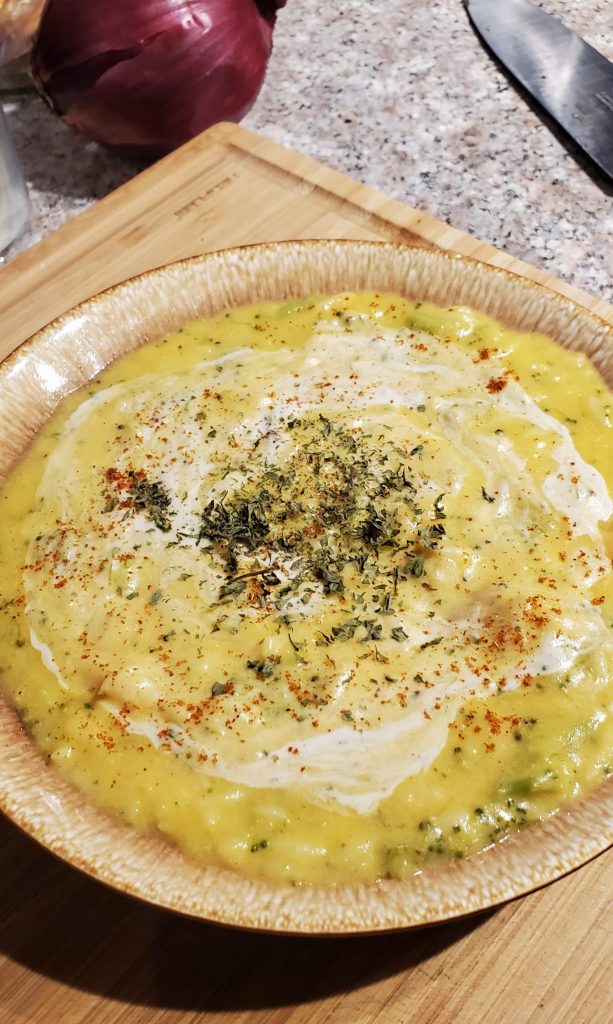 First, I start off with a little coconut milk, some water and several cups of veggies, like carrots, onions, and some garlic, along with just a bit of seasoning to get things going!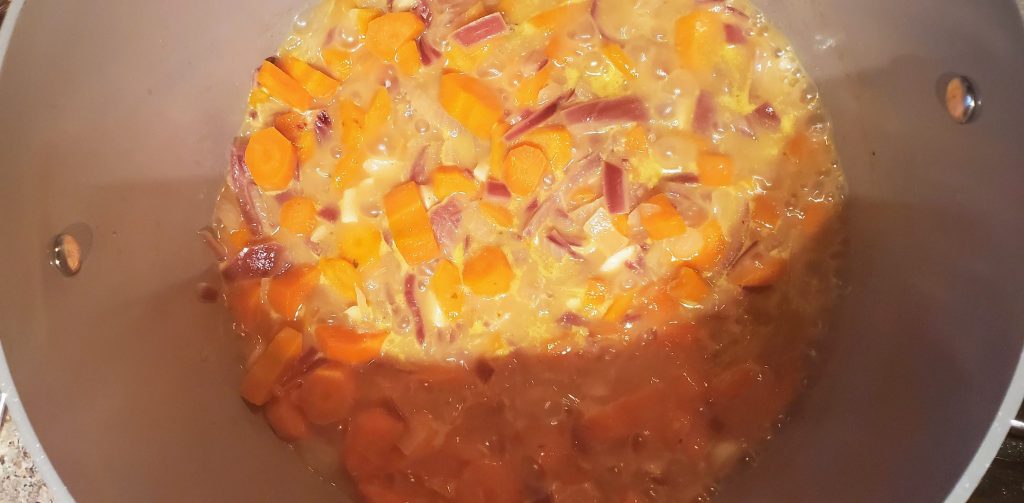 Once most of the liquid has boiled off, I add a bit of vinegar, just for a bit of zest and to kind of "pickle" the ingredients. I add in a bit more water, a little more flavor, and two cups of cooked rice. Then, this soup base heads to the high-speed blender to turn creamy!
While blending, I heat up some more water, and add in everything else! And while I wait for everything to get nice and warm, I can whip up some cashew cream!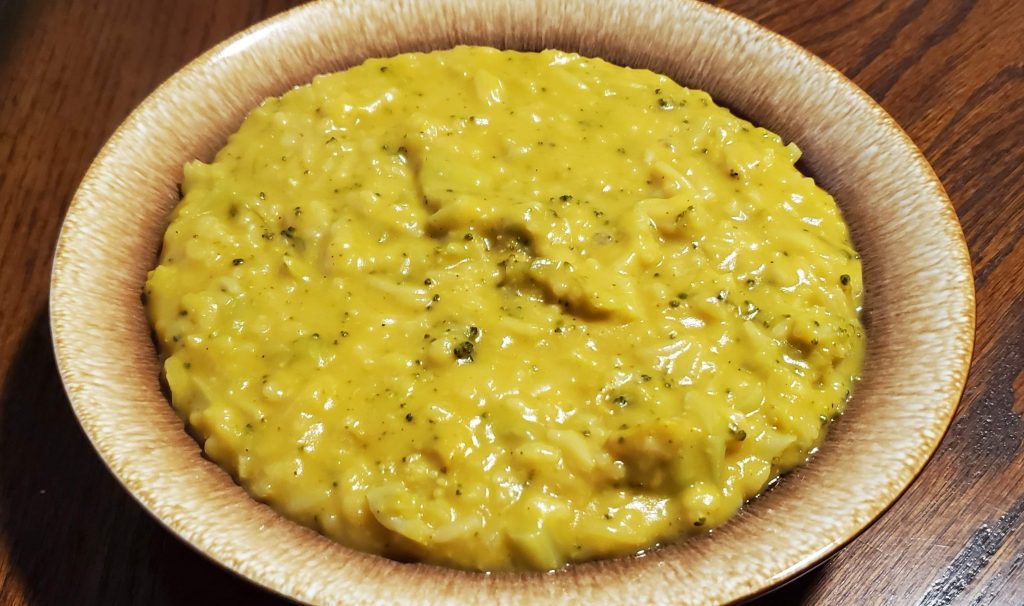 Cheesy Broccoli Rice Cream Soup
A ridiculously creamy, whole-grain, healthy vegetable delicious hot treat!
Last updated April 20, 2020.
Ingredients
Vegetable Cooking
½

cup

coconut milk

1 ½

cups

water

2

cups

carrots

peeled and rough chopped. Roughly 4-5 medium carrots.

2

cups

onions

rough chopped. About 1 medium-large yellow or white onion.

2 to 4

cloves

garlic

minced or chopped

1 ½

Tbsp

McKay's "Chicken" Seasoning

½ to 1

tsp

ground cumin

2

tsp

white vinegar
Soup Base
1 to 2

cups

water

½

cup

nutritional yeast flakes

2

cups

rice

cooked
Main Soup Ingredients
3-4

cups

water

2

Tbsp

corn starch

3-4

cups

rice

cooked

1

tsp

seasoned salt

optional or season as desired

⅛

tsp

cayenne

scant, optional or season as desired

⅛

tsp

ground pepper

scant, optional or season as desired

3

cups

broccoli

lightly steamed, medium-fine chopped.

1-2

Tbsp

lemon juice

season as desired, see notes.
Cashew Cream (Optional)
1

cup

raw cashews

soaked overnight, or in boiling water for an hour

¾

cup

water
Instructions
Vegetable Cooking
In a large non-stick soup pan, add coconut milk, 1 1/2 cups water, carrots, onions, garlic, chicken seasoning, and ground cumin.

Cook on medium high, stirring occasionally, until liquid is almost gone.

Stir more frequently to cook the carrots and onions a bit more until almost dry.

Add vinegar, stir and cook that mostly off.
Soup Base
To the cooked vegetables, add 1 cup water. nutritional yeast and 2 lightly packed cups of cooked rice.

Stir until rice is separated, and everything is well-mixed.

Add entire mixture to high-speed blender.
Main Soup Ingredients
Before worrying about blending, return empty soup pan to stove, on high, add 3 cups cold water, and 2 Tbsp cornstarch. Mix well.

Blend the soup base in the high-speed blender until very creamy and smooth. If you have trouble blending, add water, 1/4 cup at a time until it easily blends, but remains thick. This may take a couple of minutes.

Back at the soup pan, the water should have heated to near boiling. Add 3 cups cooked rice and stir to separate.

Add seasoned salt, cayenne, and pepper.

Return soup base from blender to soup pan and stir in.

Add broccoli and lemon juice.

Serve and enjoy. Store leftovers in a tightly covered container.
Cashew Cream (Optional)
To take this delicious soup from delicious to decadent, make and add some cashew cream!

In a high-speed blender (you don't really have to wash/scrape it out that well from the soup base), blend soaked cashews and water on high until you have a beautiful cream.

Stir cashew cream into the entire soup and mix, or use it to swirl into each bowlful!
Notes
2 cups of precooked rice is more than enough for this whole recipe.  Extra rice can be added for desired consistency.
Remember that cheese is often salty, so using a little extra chicken seasoning, seasoned salt, or salt-substitute than you normally might, will help add to the cheesiness!
The full amount or additional lemon juice can give things a lovely tang that works well for a cheesy taste!  More lemon juice may increase the "sharpness" of the "cheese."
Water can be adjusted to suit the level of "soupy-ness" you require.  This soup will get thicker as it sits.  Use more water, if also using the cashew cream.
Cashew cream is completely optional, but does take this soup from delicious, to decadent!  You can just add the cream to the soup pan and stir in, or swirl in some into each bowl of soup as you prepare to serve.  If storing leftovers, cashew cream is properly best stirred into the remaining soup!
I hope this original Plant-based Bear recipe will become one that you truly enjoy. Or, if you have tips or comments, please pop them below! May your remaining winter evenings be full of something creamy, cheesy, soupy, and delicious!