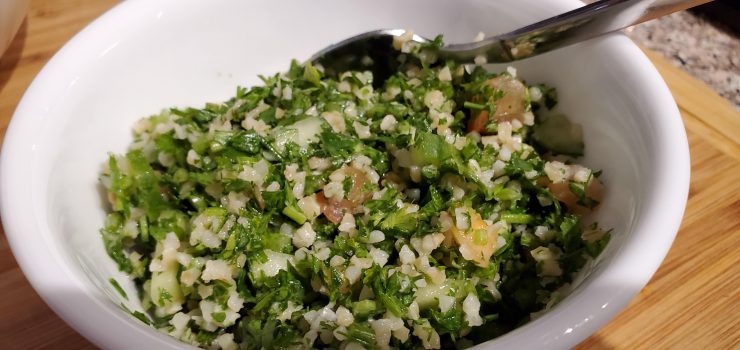 I'll not get into a debate about whether it's Tabouli, Tabouleh, or Tabbouleh, but needless to say, when the weather is hot (or even not), this is a great thing to make and have a cup or two of! It's one of my favorite prepared salads!
I've long followed a recipe which I think I got online somewhere long ago. However, most tabouli is made with olive oil, and, well, that's not going to work for me. So I've made some adjustments:
No-Oil Tabouli Salad
Parsley-based, cold, fresh salad.
Last updated July 28, 2019.
Servings:
6
large servings or more
Ingredients
1

c

Bulgar wheat

dry

1 1/2

c

boiling water

1/4

c

lemon juice

or put as much as you like!

2-3

T

tahini

(pre-made or grind your own)

4-5

cloves

garlic

minced

1

t

to 1 1/2salt

black pepper

4-8

green onions

minced

4-6

c

parsley

packed, minced (about 4-8 bunches)

10-25

mint leaves

chopped

2

medium tomatoes

diced
Instructions
Put the Bulgar wheat in a big bowl, cover with the boiling water, and cover with lid or plastic wrap for 10-15 minutes, which should get it mostly tender.

In the meantime, start mincing, and then add lemon juice, tahini, garlic, salt, and pepper to the big bowl with the Bulgar, and mix well. (Salt can be left out or left until the end if you want to monitor it.)
Notes
If serving immediately, mix in the rest of the ingredients, but do try to chill for just a bit first. This one is great COLD!
If serving much later, consider leaving out the greens until right before serving time, and then mixing together.
I have a big Tupperware bowl that I use for this, and while I haven't measured the parsley in years, I basically just fill the bowl until I don't think any more can get in! Then I carefully stir, with one hand mixing, and one hand holding it in the bowl.
I've also done it where I mixed in all the liquids into the Bulgar, and then topped with the greens, leaving them this way in the bowl until ready to serve, and then mixing it up, instead of leaving them completely separate.
For today's version, I added extra lemon juice, and I also had some fresh dill, and diced cucumbers. While it may not be "authentic," I've never been one to care, and I like the little bit of extra crunch and it's certainly delicious, although I learned that a little chopped dill goes a long way!
At the top, I said this is a great salad to make on a hot day, but that's a bit of a lie. It's actually great to EAT on a hot day, and working endlessly mincing is never that much fun. But, if I do make it on a hot day, I know there will be a delicious reward waiting a bit later, and for that, I'm willing to do it!