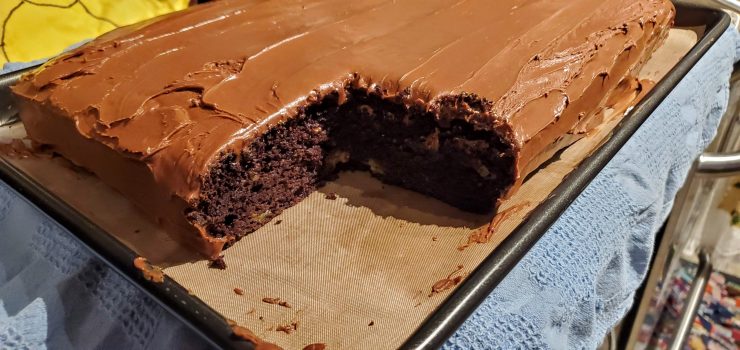 It's been about a year since I started on the whole foods, plant-based lifestyle, and in that time, I haven't had much cake. In fact, I don't think I've had any. So, today, it seemed like a good day for some! I searched around online for some chocolate cake recipes that would have no oil, be plant-based, and sounded delicious. And, I finally stumbled across this one from Jeanette over at Vegan Envy. Jeanette's passion for food, and essentially the same philosophy as me (a WFPB diet) makes her recipes a good fit, and I'll be checking more of them out!
Jeanette has this easy and amazing sounding Healthy Aqua Faba Vegan Chocolate Birthday Cake: Fat-Free, Whole Wheat. It includes basic ingredients, and used zucchini to help with moisture, and at least pretend it's healthy. Problem is, I don't have any zucchini, or any kind of squash, and, I'm under a stay-at-home order in my area due to COVID-19. So, I wondered what else might do! And, I had a lot of broccoli that needed to be eaten before it went bad…
I'm no expert, but I reasoned that broccoli is the dryer, tougher, more flowery version of zucchini. When cooked, it's a bit mushy, has a relatively light flavor, and seems to contain SOME moisture. So I set to work!
Jeanette's recipe doesn't print easily for some reason, as her pictures are so big (but I did appreciate knowing what things SHOULD look like), so I've included it below, just re-formatted.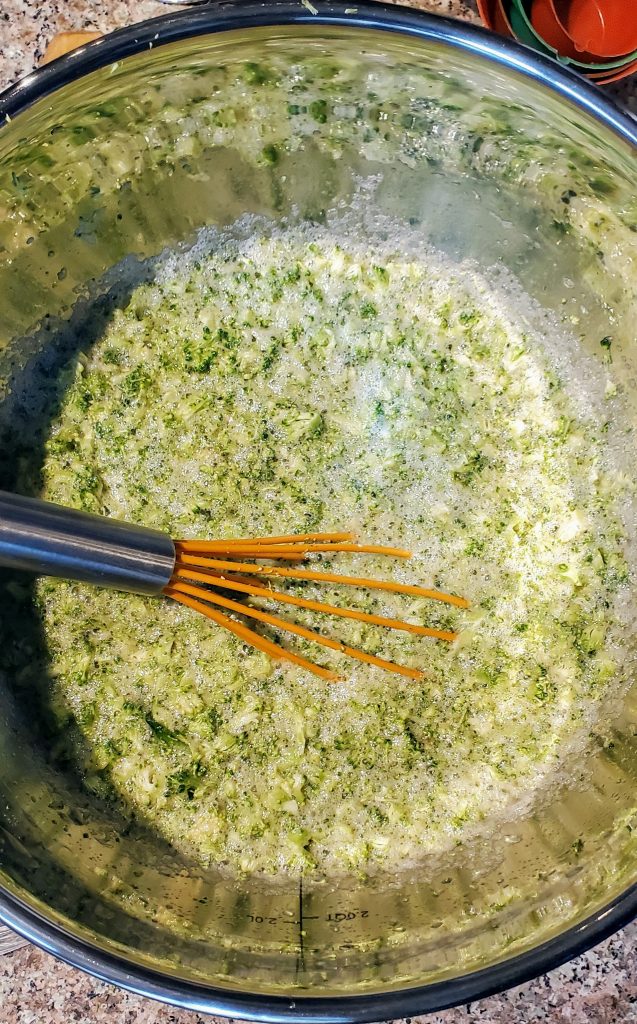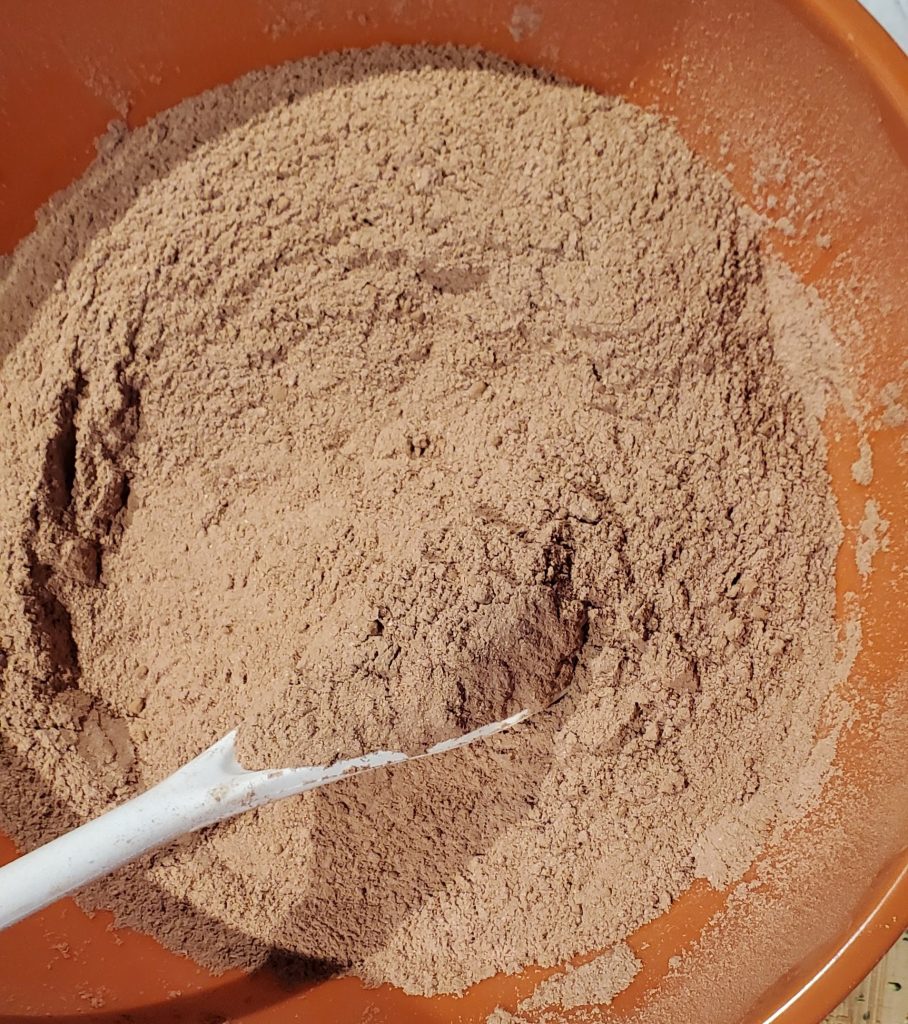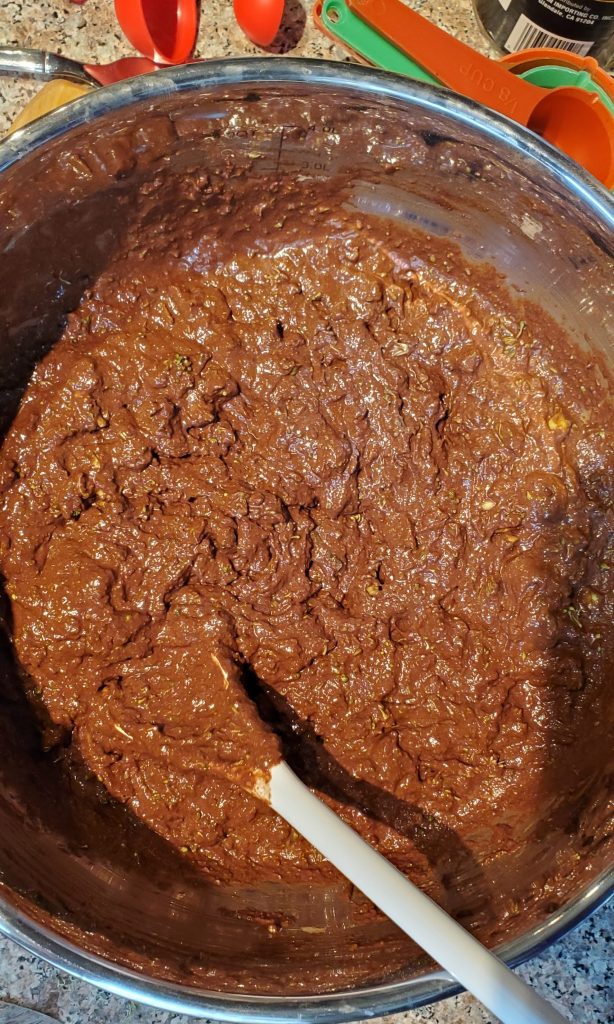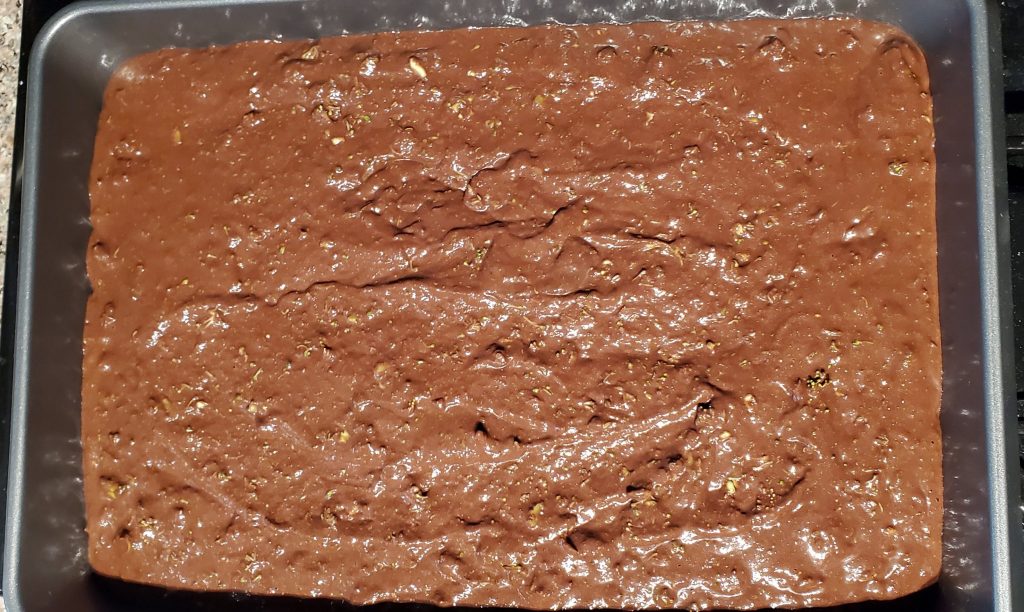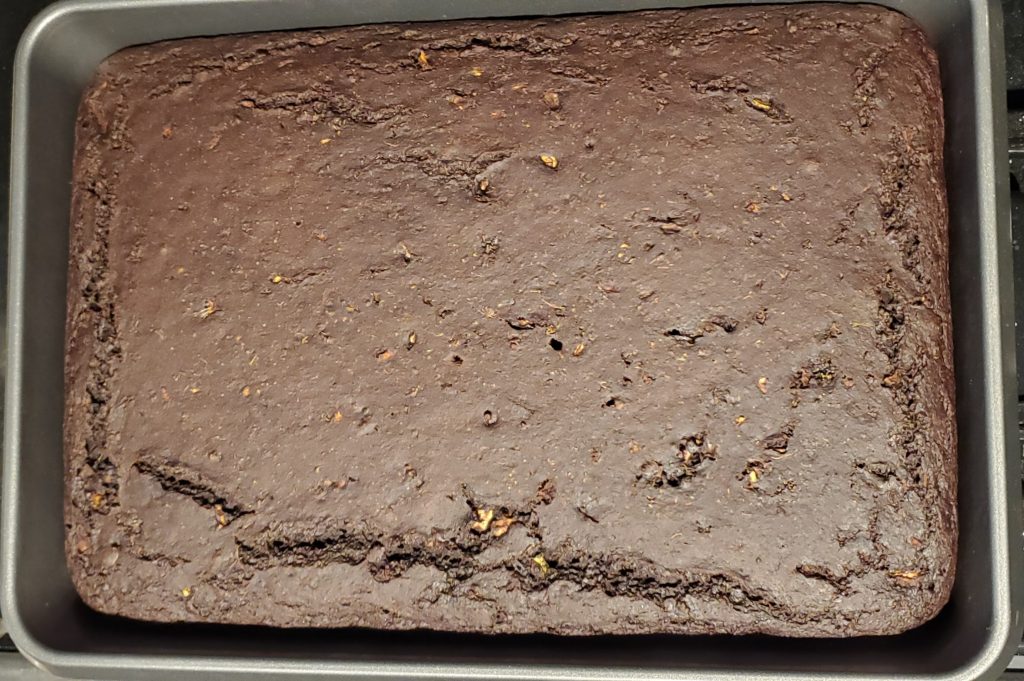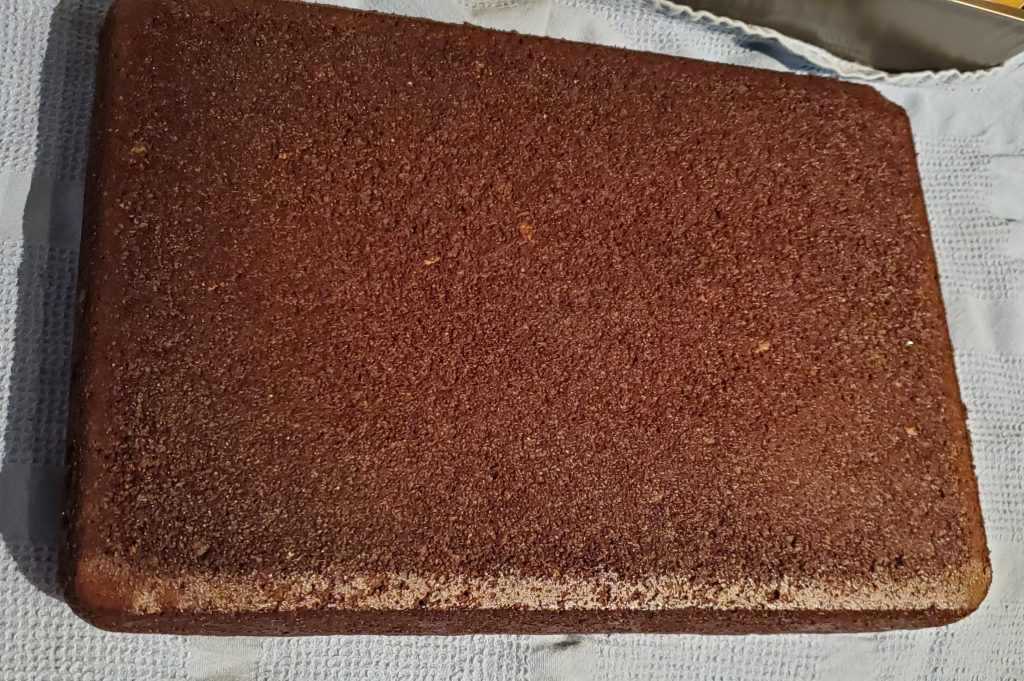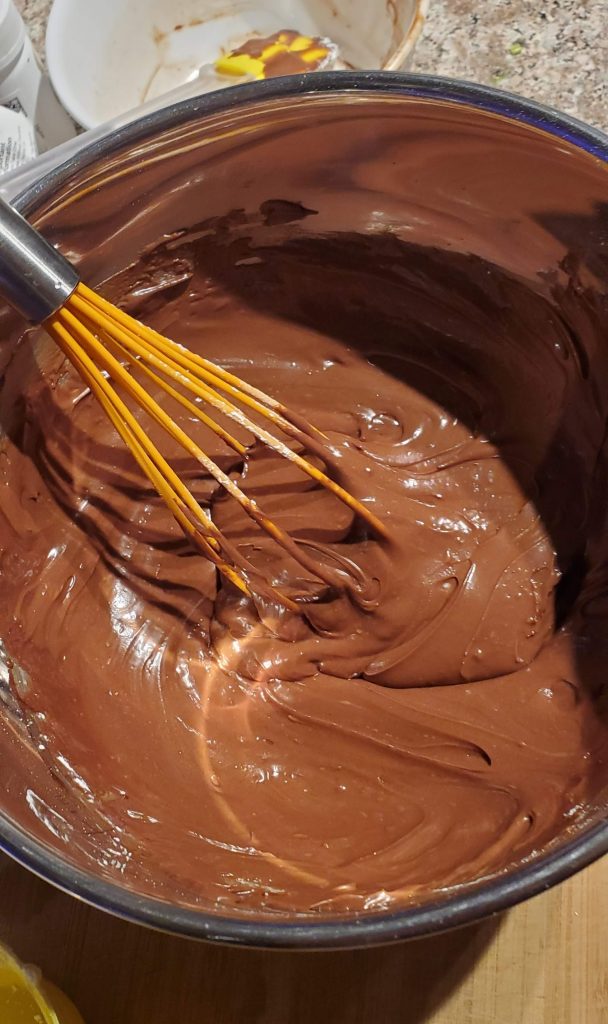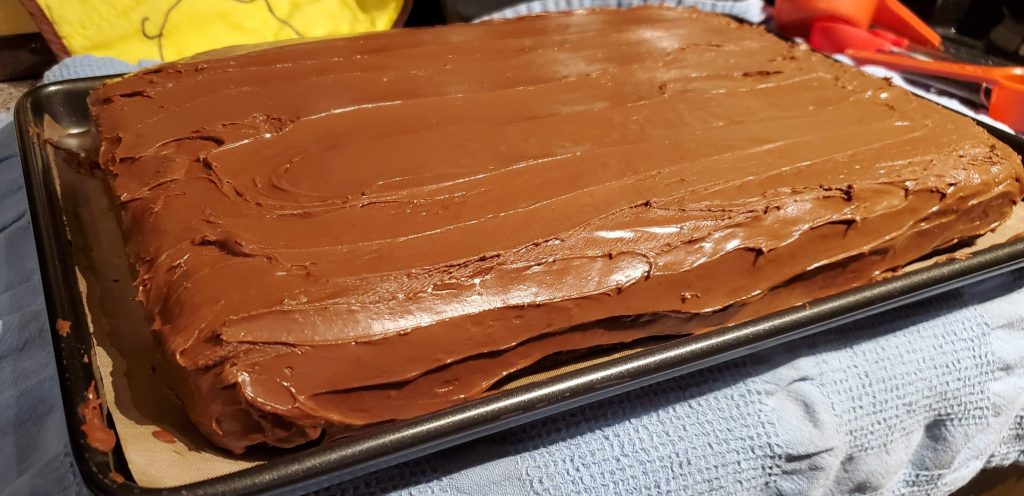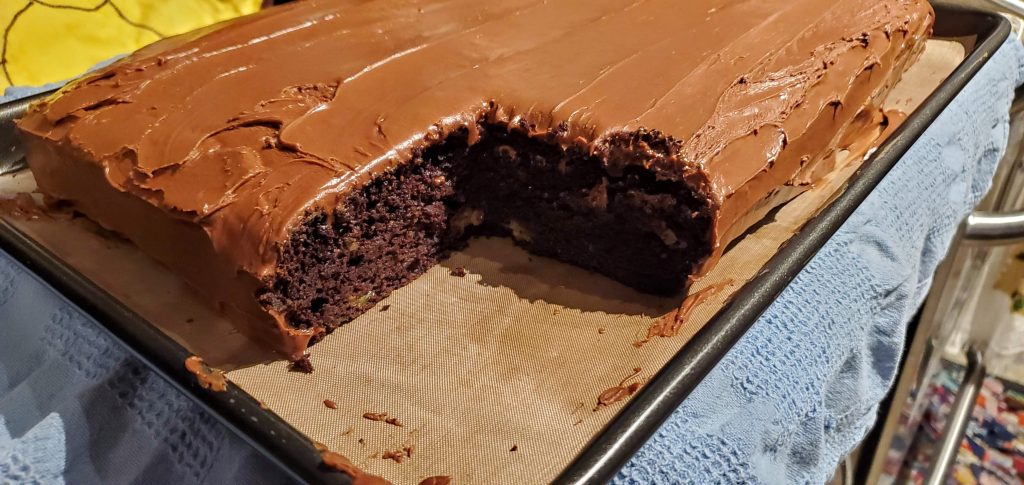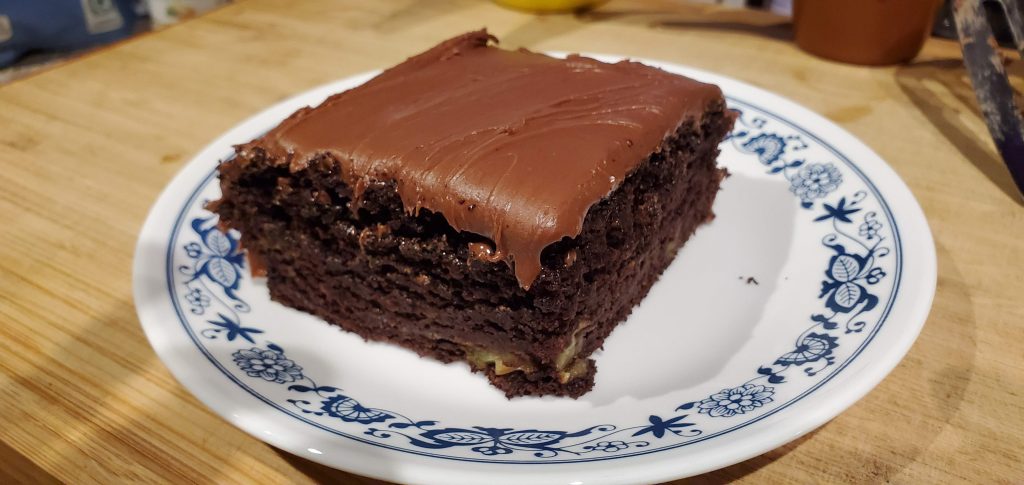 All in all, an amazing cake, and it's down-right tasty. I'm sure the sugar in the cake and frosting contribute, uh, slightly, but wow, it was really delicious. You can even see a little green broccoli at the bottom corner!
Thanks to Jeanette for this recipe. I think I'll be using this again, next time I need a decadent cake!
Whole Wheat, No Oil Vegan Chocolate Zucchini Cake with Vegan Frosting
Makes one frosted 9" diameter 29″ circumference two layer cake with chocolate icing filling.
Ingredients
CAKE INGREDIENTS
1

cup

non-dairy milk

I've used soy or homemade pecan or almond milk (pecans or almonds blended with water in high speed blender).

1.5

cups

aquafaba* 2 cans of liquid from beans

Save the beans for another recipe. I've used black beans lentils, kidney beans, chickpeas.

2

cups

brown sugar

Or other dry sweetener.

1

Tablespoon

vanilla extract

4

cups

zucchini shredded – two medium zucchini

I've also used spaghetti squash (had to adjust the liquid down a touch) but worked great! (PBB: Or broccoli)

3

cups

whole wheat flour

My flour says "best for bread." I have also used white flour (it was at the lake and I didn't have any whole wheat).

1.5

cups

cocoa powder unsweetened

The better the quality cocoa, the better the flavour cake.

3

teaspoons

baking soda

Ensure is well mixed throughout the dry ingredients.

1

teaspoon

salt
FROSTING INGREDIENTS
1

cup

chocolate chips heaping

dairy free

1/3

cup

non-dairy milk

Soy milk is especially creamy and is lower fat than coconut milk. I've had great success with homemade pecan or almond milk. I blend 1/4 cup pecans or almonds with approx 2 1/4 cups water in high speed blender and I don't bother to strain it. Pecan is more decadent, but separates afterwards.

3

cups

icing sugar

Or powdered sugar.
Instructions
CAKE INSTRUCTIONS
Preheat oven to 350° F (175° C). Lightly spray two 9" round cake pans.

In a large bowl, whisk together the non-dairy milk, aquafaba, brown sugar and vanilla.

Shred zucchini (or other squash substitute) in a food processor or with a grater.

Stir in the shredded zucchini. I used a spiralizer to make 2 cups of zucchini, which I then quickly chopped into small pieces, and then a small food processor to make the other 2 cups. I wanted some zucchini wetter and some more dry. You could food process all the zucchini instead.

In a separate bowl, mix the whole wheat flour, cocoa powder, baking soda and salt and then add to the zucchini mixture, stirring until completely combined.

Pour evenly into the two cake pans.

Bake for 40-45 minutes or until a toothpick inserted in center comes out clean.

The cakes should rise nicely, the top might feel a bit tough, but the frosting softens it up.

Let cool completely. Run a knife around the pans and turn upside down onto a cooling rack or towel.
FROSTING INSTRUCTIONS
While cake is cooling, make the frosting by putting the chocolate chips and non-dairy milk in a microwave safe glass bowl and microwaving in 15 second increments until chocolate is gooey but not a liquid. Add the icing sugar 1 cup at a time.

Stir frosting with a fork or whisk until it is completely smooth.

Add additional non-dairy milk one tablespoon at a time if required to reach smooth and desired spreading consistency.

Once cake has cooled, generously spread warm frosting on the bottom layer to get a nice thick middle layer of icing. I put the first cake upside down and the 2nd right side up so the two flat bottoms meet in the middle. Place the 2nd layer of chocolate cake on the 1st and spread the chocolate frosting over the top and sides.

The frosting spreads easily when it is warm, and then cools and stays in place. Microwave for 10 seconds if it becomes too thick to spread. This picture is from the next day… after sitting on the counter under a cake lid. Frosting is still holding up well!
Notes
*Aquafaba is the liquid in a can of beans, for example chickpeas or cannelloni beans, or the cooking liquid from making your own beans. The aquafaba replaces the protein that eggs normally provide. It strengthens the walls of the bubbles, and makes the cake fluffier.
Zucchini Substitution: Spaghetti Squash. (PBB: Or broccoli!)
Non-Dairy Milk Options: Soy or homemade Almond or Pecan milk.
Rectangle Option: 9″ x 13″ rectangle cake (not layered) – cook 5-10 min longer, until a toothpick inserted in the middle, to the bottom comes out clean.
Serving Suggestions Birthday candles!! Party hats!! Family and Friends!! A scoop of non-dairy ice cream!
Happy baking!