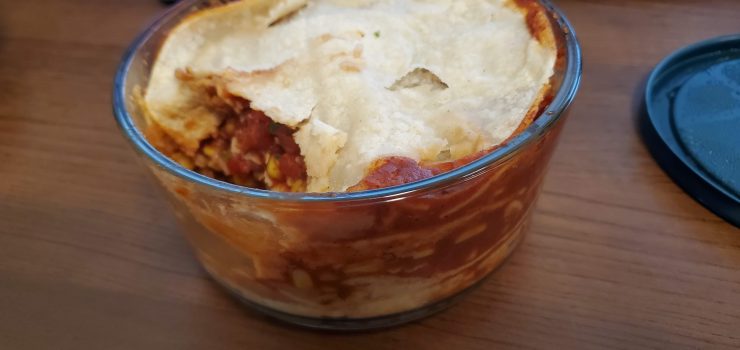 Each day I want to take a healthy, plant-based lunch to work. Lunch is my main meal of the day, after a big breakfast, and virtually no dinner. So I don't want so skimp out on making something hearty, tasty, and delicious! But, those time constraints!
So, again, in my typical "how-to" fashion, here's an incredibly simple, but incredibly tasty, how-ya-do-it, as fast as making a sandwich, in a 4-cup Pyrex bowl.
Deep Dish Enchiladas
Easy dish for one for homemade lunches with a Mexican flair!
Last updated August 8, 2019.
Ingredients
5

corn tortillas

1

can

no-oil refried beans

2

cups

cooked rice

any variety

1

small can

enchilada sauce or tomato sauce

seasoned as you desire

pico de gallo or salsa

optional

bell peppers

diced, optional

plant-based cheese or cheese sauce

shredded, optional

plant-based sour cream

optional
Instructions
If using tomato sauce, prepare with some spices and seasonings that suit you. A little chili powder, salt, and diced bell peppers such should make it more exciting! No need to heat it, unless you want to heat up the bell peppers into the sauce to better spread flavor. Green chilies would work here too!

Add a little of the enchilada or tomato sauce (the sauce) to the bottom of the bowl. This is mostly so the tortilla doesn't want to stick!

Add a corn tortilla, flat in the bottom of your Pyrex bowl. It might be slightly larger than the bowl. These are usually naturally oil-free, and are shelf stable for a long time.

Layer refried beans (I do mine in clumps), rice, salsa, peppers, and more sauce. Add plant-based cheese or sauce in each layer, if desired.

Add another corn tortilla and repeat until the bowl is filled. I like to end with a corn tortilla on top, so things don't stick to the lid.

When time to eat, heat 4-6 minutes in the microwave. This is thick and heavy, so it takes awhile to heat. Bowl will be hot when removing from microwave.

Top with plant-based shredded cheese and sour cream!
Notes
Use a glass Pyrex bowl, as tomato-based sauces and plastic bowls don't really work too well. We also need some depth here.
Because of splattering, use some sort of lid or paper towel. Don't use the plastic Pyrex lids, as they'll often melt and misshape with that much microwaving.  I eat at the office, so can usually find a paper plate or paper towel to cover during cooking!
In my Deep Dish Enchiladas for today, I had some corn I wanted to use up, and some pico de gallo. A dollop of quacomole would've been great, and the shredded cheese or sauce would have been nice too, but I didn't have any fresh in my fridge. Nonetheless, these enchiladas really hit the spot and were amazing. Also, it's hard to "overnuke" these in the microwave, as that seems to give them more of a "baked" consistency.
Yeah, I don't know if I can really call these "enchiladas," as I don't know the first thing about authentic Mexican cuisine (except how to eat it!), but, they do use the same basic ingredients, I think, so I'm sticking with it! Don't like it? Comment below!