I've been wanting a good omelet for awhile. And, while I applaud the efforts of the "Just" company and their Just Egg product, it contains a lot of canola oil, several impossible to pronounce ingredients, and is rather expensive, per bottle. There had to be a better way!
Dana, over at the Minimalist Baker, came to the rescue! She also came to the conclusion that maybe she could recreate the "eggy" product from Just. But, like most things you make at home, it can take a bit of preparation. This recipe is pretty easy, and just uses a high-speed blender, but it's the forethought needed to soak your mung beans the night before that makes it problematic for me. But, if I want omelets so bad, this really does work.
You start out with some split mung beans, also known as moong dal. During the COVID-19 pandemic, I haven't been scouring multiple stores for ingredients, and so didn't readily find these split mung beans. But at a Korean grocery store, I found dried peeled mung beans. These appeared to be very similar to the picture Dana had in her recipe, so I bought some.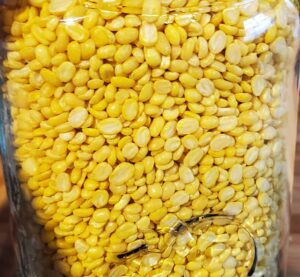 A rinse, an all-day soak, another rinse, and I popped them in the fridge overnight for this morning!
Then it was time for high-speed blender action, and a hot non-stick pan, and voila! Omelets!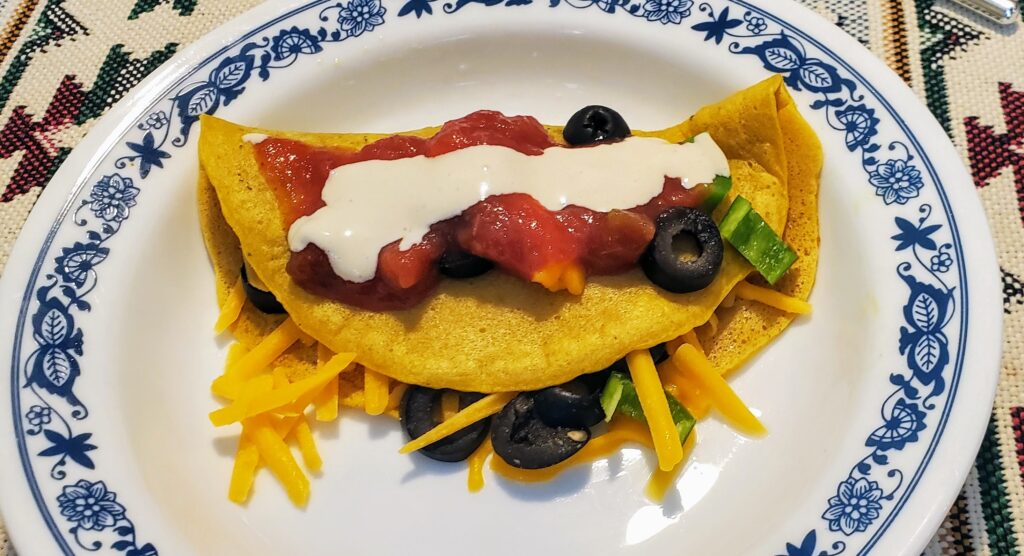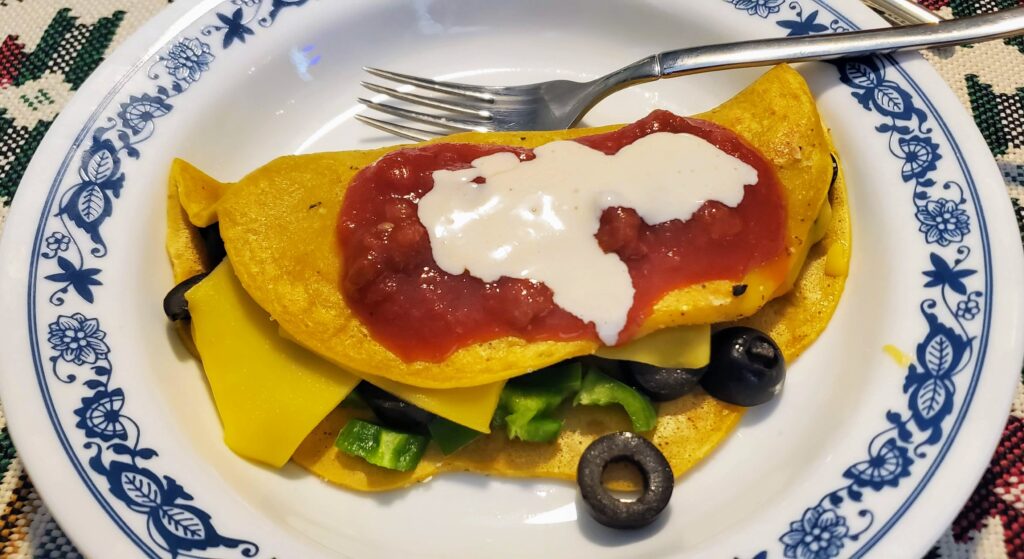 Best I can tell, you can call something "California", if you simply add fresh avocado! So, without further ado: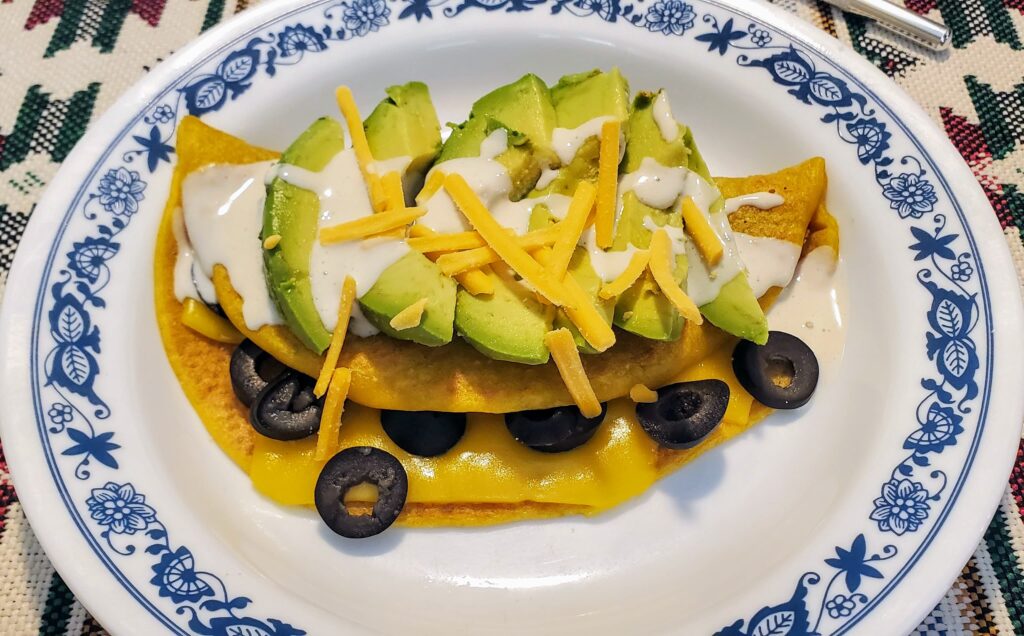 But why not make a "Spanish" omelet with a "slow-cooked Spanish sauce" inside and out (that couldn't possibly be repurposed salsa):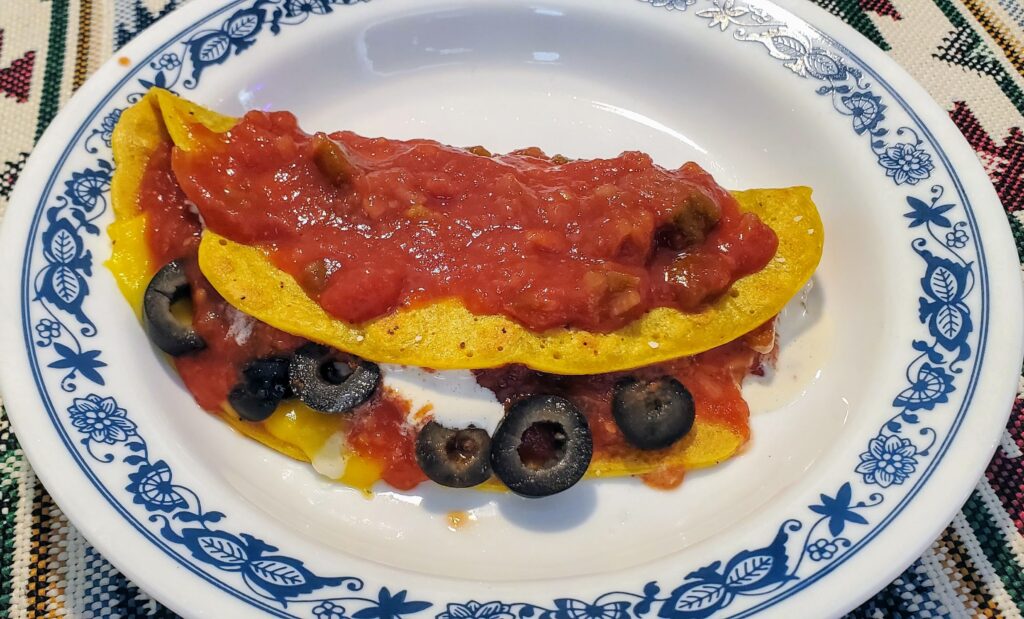 Or, my first attempt, when I didn't cover the pan to cook and things fell apart, so I just called them "Scrambled Eggs with Veggies":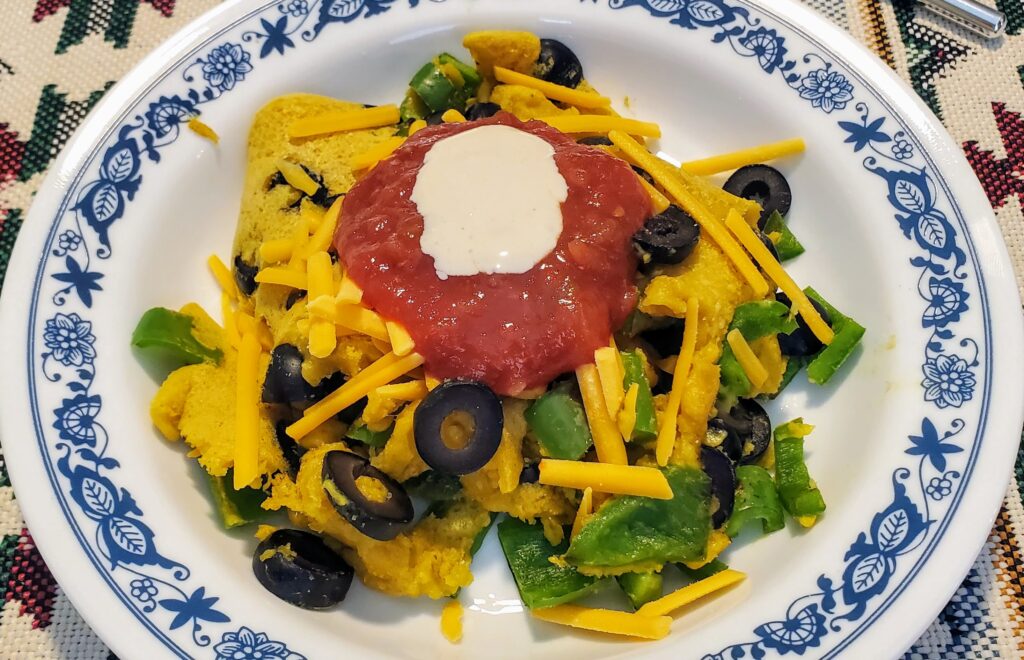 I just ate, but posting these pictures of these omelets is making me hungry again!
The key here for me was to use a non-stick skillet, make sure to cover the pan for a minute or two for cooking, stir and/or flip, then cover again. I found that if I did the first flip, it was a good time to add vegan cheese, which allowed it to melt, covered again. While I've been lazy lately, and haven't made my Plant-based Sharp Cheddar Cheese, I did have some of my Plant-based Sour Cream to use on these! Combined with a few olives, green peppers or green chilis, and some slice olives, and they're quite a treat!
Try this plant-based scrambled egg and omelet recipe from the Minimalist Baker for yourself! I've removed the unneeded oil from this recipe, as well!
Plant-based Scrambled Egg and Omelet Mix
A egg, or even "Just Egg" alternative you can make at home, from mung beans, and 8 other real, wholesome ingredients. Perfect for scrambles, omelets, frittatas, and more!
Ingredients
3/4

cup

split mung beans, rinsed (moong dal)

NOT whole mung beans

1 to 1 1/4

tsp

black salt (kala namak)

or sea salt — though black salt adds a magically "eggy" flavor

1/2

tsp

onion powder

3/4

tsp

ground turmeric

2

tsp

nutritional yeast

1 ⅓

cup

canned light coconut milk

1/4

cup

white rice flour

or brown rice flour

1 ¼

tsp

baking powder
Instructions
Rinse mung beans and add to a large mixing bowl. Cover with lukewarm water and soak (covered) for at least 6 hours or overnight.

Drain and rinse well, then add to a high-speed blender. Add remaining ingredients and blend until creamy and smooth, about 1-2 minutes. Taste and adjust flavor as needed, adding more black salt for "eggy" flavor, onion powder for overall flavor, turmeric for color, or nutritional yeast for cheesy flavor. The batter should be thin and pourable, but not too watery. Add more rice flour if too thin or more coconut milk if too thick.

Heat a non-stick pan or a greased skillet over medium-low heat. Once hot, add about 1/4 cup (60 g) egg mixture, or enough to almost reach the edges of the pan. Then cover.

Cook for 1-2 minutes, or until the edges appear a little dry. You may notice bubbles on the surface. Then use a rubber spatula to gently push the "eggs" around toward one side of the pan, or flip, for an omelet. Cover again and cook for another 1-2 minutes.

Transfer egg to a plate and let cool slightly. Taste test cooked egg and adjust flavor of remaining batter as needed, adding more black salt for "eggy" flavor or to hide any flavor of baking powder.

Continue process until all of the egg mixture is cooked! Alternatively, store in the refrigerator up to 1 week for use throughout the week.

Serve as is, or with desired toppings, such as salsa, vegan parmesan cheese, fresh herbs, or toast.
Notes
PBB: I successfully used:
Peeled Mung Beans, instead of split mung beans
Tapioca flour, instead of rice flour (adding a little extra, for my attempt)
Full premium cocunut milk thinned with just a bit of water, instead of light coconut milk.
The next batch of this stuff that I make, I'll have to save some in the refrigerator for later in the week! I'd even saved the bottle from the Just Egg that I purchased, so I'll have the perfect bottle to keep this in, at a mere fraction of the price!